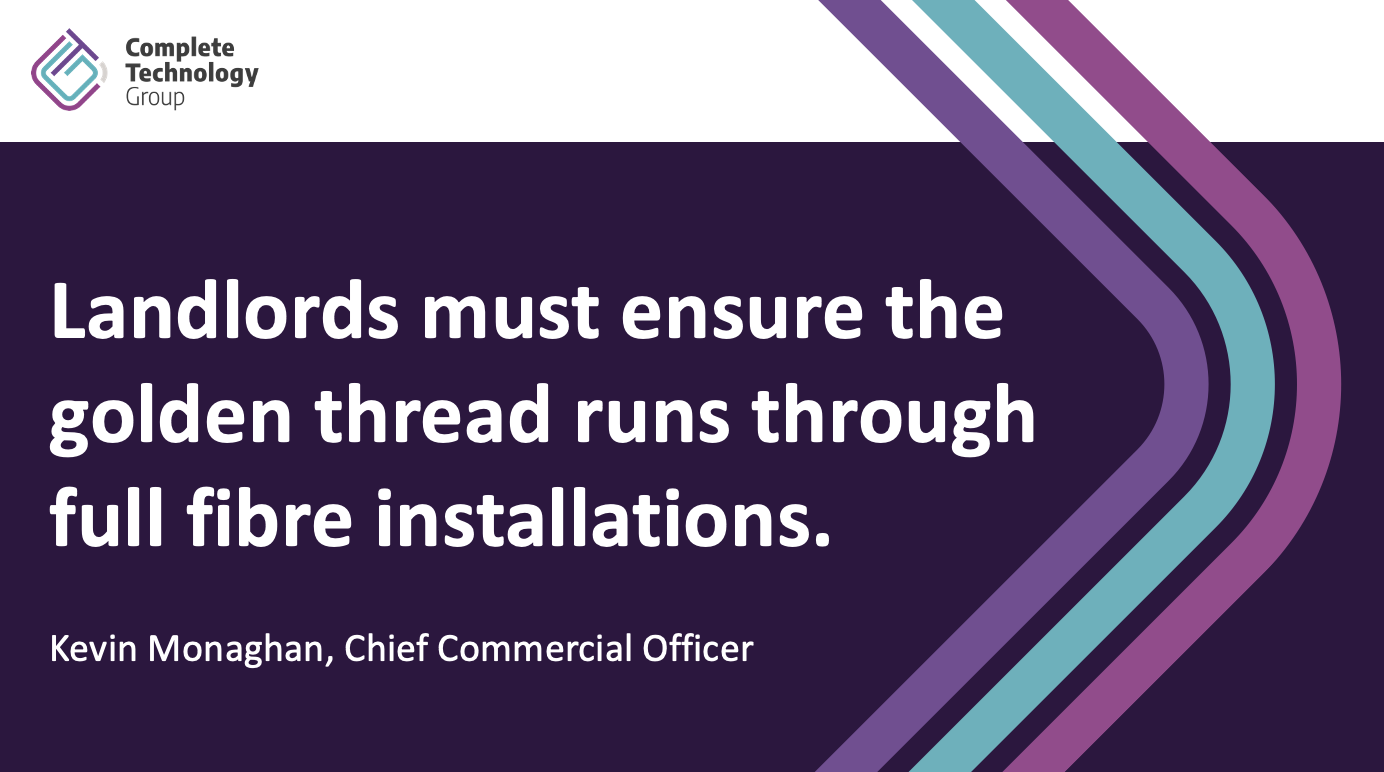 Landlords must ensure the golden thread runs through full fibre network installations
With something of a race underway to meet government targets to lay fibre in the UK, upholding the principles of the golden thread is critical to keep residents and landlords safe, explains Kevin Monaghan, Chief Commercial Officer, Complete Technology Group.
The Grenfell Tower tragedy of 2017 serves as a powerful and permanent reminder of the importance of building safety in the UK. The disaster prompted an urgent review by Dame Judith Hackitt into building regulations and fire safety across all multi-occupancy buildings, also known as multi-dwelling units or MDUs. As a result, new Building Safety Act regulations are in place, and landlords are obligated to be mindful of golden thread principles when it comes to their properties.
The regulations apply to fibre installation and we're working with landlords, pro bono, to help them meet their obligations in this area. While subject to forthcoming secondary legislation and guidance, there is a legal duty for accountable persons to be adhering to principles now, as the overarching legislation has received Royal Assent.
CTG was established in 2020 to bridge the safety and quality gap that can sometimes occur between landlords and telecoms companies. We'll always ensure that a telecoms company provides the design, an as-built plan and a fully compliant, independent audit.
Our early audits highlighted gaps in landlord knowledge and information on their buildings, but more importantly was the number of MDUs that weren't meeting the safety and quality standards required. We also found a significant number of first-time rectifications were inadequate.
Ensuring that fibre installs follow a process that supports the principles of the golden thread is key to identifying any issues and holding companies to account. Having a design, plan and audit provides the landlord with a digital asset record, and forms part of the building's overall 'golden thread'. And, if the unthinkable should happen in a building, landlords can be confident that the digital infrastructure and installation was undertaken to a safe and high-quality standard.
Part of the current challenge for landlords is that each golden thread will be bespoke to the building and residents. Identifying the information needed, in what format and where to hold it, is key – and we can help with that, at no cost for the landlord.
Want to know more?
The golden thread is a record or timeline of information related to construction projects – from design plans through to ongoing maintenance – which should be stored throughout its lifetime for any MDU. This includes detailed records on materials used during construction; alterations made over time; building floorplans; regular inspection documents; risk assessments and any other relevant information.
The Health and Safety Executive makes clear that a building's golden thread information must be:
kept digitally, and securely
a building's single source of truth
available to those who need the information to do a job
available when the person needs the information
presented in a way that the information is usable.
Complete Technology Group (CTG)
CTG acts as a trusted partner between the landlord and telecoms operators during planning and build, removing the time burden on landlords, and minimising risk for both parties. Services include digital infrastructure planning and audit of fibre installations, to ensure safety, compliance, and quality.
CTG will work with the appointed telecoms operator or with Complete Fibre, its sister company, enabling up to four internet service providers to 'plug and play' in one installation.
To date, CTG is working with Orbit, A2 Dominion, One Housing Group, Settle, L&Q, Curo and Sovereign, amongst others. If you are a landlord and would like to find out more about our services, get in touch with us today.
Recent posts
Safety is paramount. It's a phrase used frequently in business, but without meaningful processes, structures, standards and, most importantly, [...]

Complete Technology Group (CTG), the digital infrastructure specialists, has been selected by Curo, one of the largest housing associations [...]