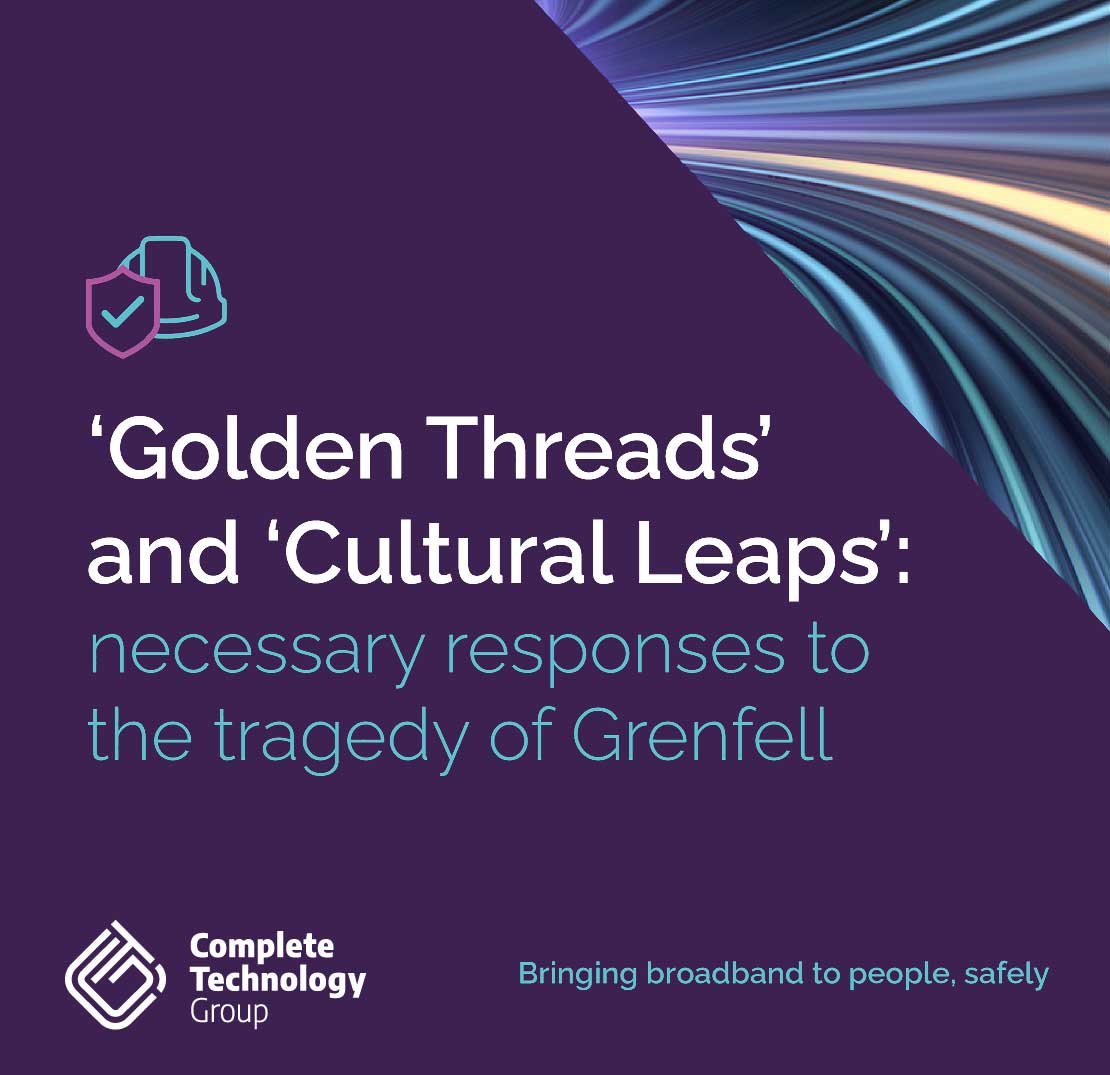 'Golden Threads' and 'Cultural Leaps': necessary responses to the tragedy of Grenfell
Have there been changes to legislation and regulation?  
The Grenfell Tower fire of 2017 has been a real (though sadly belated) wake-up call for the Housing and Construction sectors. The Building Safety Bill, the Fire Safety Act 2021, the Decent Homes Standard, all reflect a major re-evaluation of fire safety, fire protection and evacuation procedures. What has already been put in place will challenge landlords and building managers, but the story will certainly not end there. More legislative and regulatory reform has been promised.
So, how big is the challenge to landlords and anyone involved in building management?

Frankly, huge. You just need to read Dame Judith Hackitt's forthright comments in her 2018 post-Grenfell review of Regulations and Fire Safety: "I have been shocked by some of the practices…and I am convinced of the need for a new intelligent system…which will hold to account those who try to cut corners." She also called for "a cultural and behavioural change" and that "the mindset of doing things as cheaply as possible and passing on responsibility for problems and shortcomings to others must stop". Peter Baker the new Building Safety Regulator has echoed this call for a radical and rigorous approach saying that "there must be no hiding place for bad practice" after this "seminal moment for the sector".
And while the scale of Grenfell was shocking, no-one must think that housing fires are uncommon. According to Home Office statistics there was a total of 7227 fires in housing blocks in 2020 – an appalling average of 20 per day. Unless an urgent major effort is made to improve fire safety practices there will be another Grenfell.
What's the starting point of reform?
That there can be "no assumption of competence". The Steering Group set up in the wake of Dame Judith's report established the SAKE definition of competence in their 2019 'Raising the Bar' publication:
Skills
Attitude
Knowledge
Education
Now, maybe the Skills, Knowledge and Education are to be expected but Attitude is given equal weight. It just shows how important is the "cultural and behavioural change" which Dame Judith calls for.
Ten categories were looked at to specify measures of competence. Nine related to jobs: engineers, installers, fire engineers, fire risk assessors, fire safety enforcing officers, building standards professionals, building designers (including architects), building safety managers, site supervisors, project managers, and procurement professionals. The tenth category is products. That tenth category looks like an anomaly, but it actually gives the clue to the underlying Golden Thread approach which landlords and everyone who works with them and for them must now follow.
What is the Golden Thread approach?

Traceabilty and Accountability are the new watchwords, whether they relate to materials like a length of cable or a panel of cladding; the processes and methods of installing them; or the people using the equipment and carrying out the works. Nothing, but nothing, can go undocumented or remain unverifiable. Much more prescriptive evidence of compliance is required at every stage of a project or task.
Let me give you a more specific example: the installation of a telecoms network.
A rigorous technical design would have to be put in place to ensure that every penetration of the walls and floors of the building is fire-stopped to the highest safety standards. That means that consideration is given to:
whether the sealing will be loadbearing or subject to movement;
the required resistance period;
insulation and water penetration requirements;
the size of the opening; and
compatibility with service and firestopping systems.
Every single penetration (hole) will require a unique reference number. Every bit of material used for fire-stopping must be of a certifiable quality and its batch number and provenance recorded in a comprehensive quality control report. And, every single person involved from the designer to the installer to the inspector must have their roles and competencies documented.
Of course, fire safety does not end with installation even with a record of the serial number, the date of installation and by whom it was installed. The service/inspection/calibration intervals must be determined and then the date of those actions must be recorded through the lifetime of the asset together with notes of faults and rectification works.
Landlords need to adopt a cradle to grave approach over the lifetime of a building: planning interventions; employing the right contractors; avoiding design liability; instituting quality controls; conducting regular quality checks; paying attention to handovers; and documenting every stage.
Is this not all a new, heavy burden for landlords?
It is an increased burden in a way, but new? – it really should not be. There just has to be a way to reduce the total number of residential block fires from 7227 a year. And the very specificity of the legislation and regulations is a help for both landlords and the contractors they appoint.
But there is help available in any case. I have been working as an H&S and Compliance Board Advisor for CTG (Complete Technology Group) who offer a free-of-charge consultancy service to landlords with regards to broadband network installations. They are currently working with 13 leading housing organisations who between them manage over 500,000 homes.
CTG manage and audit installations on behalf of landlords; provide a design service, planning and agreeing suitable equipment locations; and where it is the landlord's preference, they deliver Complete Fibre – a fully financed and managed multi-fibre building network.
There are undoubtedly big challenges for the construction sector as well as landlords and building managers. But, there are also great opportunities to deliver a generational transformation to provide homes fit for the future.
Clive Ormerod is Managing Director of OMS Ltd: www.oms.uk.com
Interview by Marek Effendowicz: www.ffnconsulting.co.uk
Recent posts
Economic growth remains a top priority for the government, with future telecommunications identified as one of five critical technologies [...]

Sovereign Housing Association has partnered with Complete Technology Group (CTG), as part of its plan to install fibre-optic broadband [...]