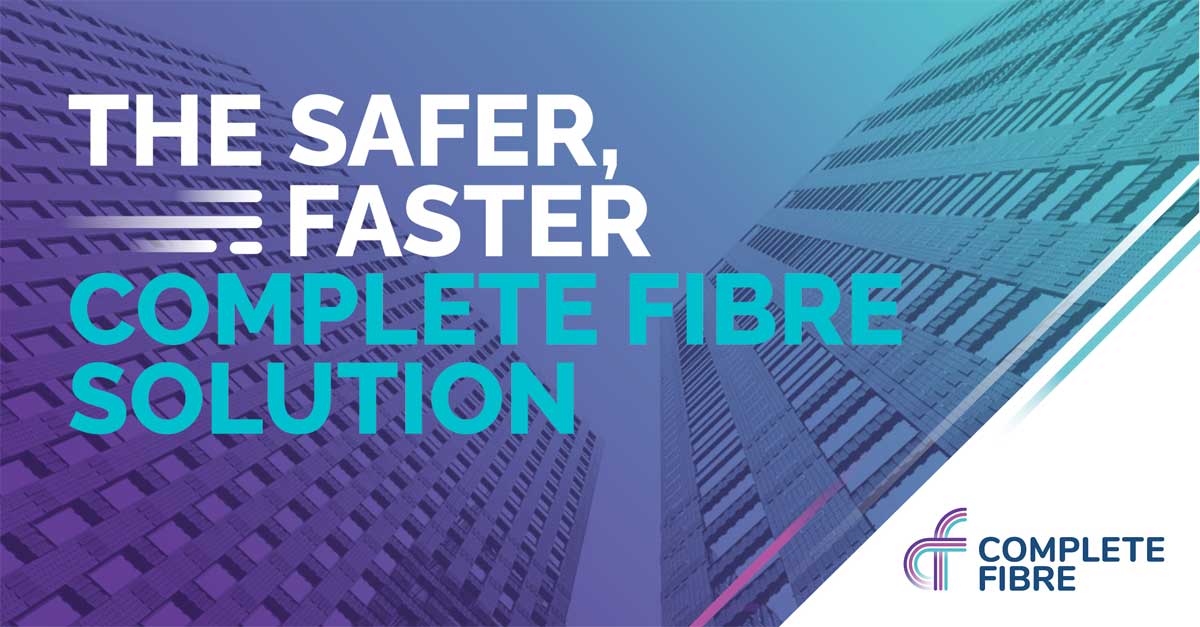 Complete Technology Group secures £125m investment to improve fibre optic connectivity in over 700,000 homes
CTG was established during the Covid pandemic by a group of four experienced infrastructure experts with the aim of improving fibre optic connectivity to poorly served communities, including multi-occupancy, social and new-build housing, whilst driving up installation standards and accountability, and reducing the risk of fire.
InfraRed's investment in CTG's Complete Fibre division – on behalf of InfraRed Infrastructure Fund V – will enable the company to work with social and private landlords and developers, including local authorities and housing associations, to provide multiple fibres in a single installation that can serve an entire building.
Complete Fibre will benefit all involved:
Landlords gain a single multi-fibre installation at no cost to them. This improves safety and provides gigabit-enabled future-proofed buildings, all with a reduced carbon footprint;
Residents gain fast reliable broadband, a greater choice of provider, and less disruption; and
Broadband providers obtain easier access to homes, reduced risk and the ability to speed up deployment.
The investment from InfraRed supports the development of CTG's Complete Fibre division, which takes an innovative approach to providing a multi-fibre system in a single installation. This protects the integrity and safety of the building and enables broadband providers to easily connect their cables to the building and offer their services to all residents in the block.
Besides the benefits of increased safety, choice for tenants, reduced costs and lower disturbance, there are significant carbon savings too, in comparison to multiple individual installations by broadband providers.
Complete Fibre will future-proof buildings and enable landlords to take advantage of emerging building management technology.
The investment from InfraRed enables CTG to hire around 100 people in the weeks and months ahead.
Eddie Minshull, CEO of Complete Technology Group, said: "We are delighted to have secured this major investment from InfraRed, which allows us to accelerate our delivery and bring about positive change to tenants, landlords and the telecommunications sector.
"We will be working with landlords to help them improve fibre connectivity in their buildings in a safe, reliable and accountable way, while reducing fire and safety risks to their buildings.
"We will apply the highest safety standards. Broadband providers will be able to access homes more easily, reduce their risk, and up-scale their operations, while residents will get a greater choice of provider and less disruption. It is a win-win-win all round."
Minshull said at a time when the health and safety of social housing and multi-occupancy accommodation was under the spotlight – Complete Fibre would play a crucial role in helping to raise standards and accountability in both the housing and telecommunications sectors.
And following on from the experiences of home-schooling during the pandemic, when many children were unable to access online lessons due to poor or non-existent broadband and technology – CTG was hoping to be the catalyst for change, making broadband connectivity more accessible to thousands of homes.
Minshull said networking the nation was an urgent priority and was part of the Government's 'Gigabit Britain' policy but said safety could not be compromised by speed.
He said the Grenfell tragedy had triggered a robust legislative and regulatory response, including the concept of the 'Golden Thread' of accountability.
"By working with leading housing groups to develop clear and consistent standards for access agreements, installation and fire-stopping within their homes, CTG will be part of this robust response," added Minshull.
Stephane Kofman, Director of Infrastructure at InfraRed Capital Partners, said: "Modern digital infrastructure is playing an increasingly important role in the global economy. High quality fibre optic infrastructure has a key role to play in accelerating digital inclusion.
"InfraRed's partnership with CTG will facilitate the creation of a high-quality fibre optic network, delivering connections to poorly-served communities and giving more people access to reliable broadband than ever before, while raising safety standards during the installation process.
"Fibre optics is a scalable and power-efficient form of technology, which contributes significantly to the UK and EU's climate goals, and this investment reflects InfraRed's commitment to continuing to invest in sustainable community assets, which support the modern economy."
Minshull also acknowledged the role Amberside Capital had played in helping CTG to secure the investment.
Amberside worked with CTG for several months to develop its business plan and create a comprehensive data room of information for investors, before running a funding competition. It then played a crucial role in supporting CTG in the commercial negotiations with InfraRed, through to close.
"Amberside was instrumental in helping us to secure this investment. We really appreciate their professionalism and support in guiding us through the process," said Minshull.
David Lomas, co-founder of Amberside Capital, said: "We are delighted to have assisted CTG in this key part of their journey. InfraRed brings both the capital needed and a deep understanding of how to scale businesses such as this, which should allow the management team to fulfil their ambitions in this sector."
Housing associations, local authorities and telecommunications companies interested in working with CTG can go to www.thecompletefibre.com for more details, or email [email protected]
For information about this press release:
 CTG: Contact Karen Westcott at DTW on +44 7545 210067 or at [email protected]
InfraRed: Contact Matthew Thomlinson at Teneo on +44 7785 528363 or Jesse Mathews on +44 7912 783513 or at [email protected]
Amberside Capital: Contact Dan Scowcroft on +44 7539 223163 or [email protected] 
Editor's notes:

About Complete Technology Group
Complete Fibre
Complete Fibre designs and installs fibre infrastructure on behalf of landlords, providing internet providers with quicker and safer access to buildings. The solution future-proofs homes, avoiding the need for further interventions, and enabling the use of emergent building technologies.
We work with landlords, residents and internet providers to ensure a win-win-win outcome, where everyone benefits from Complete Fibre, providing a single multi-fibre installation to social, multi-occupancy and new build developments, whilst reducing safety and fire risks.
CTG Services
Expert advice: CTG advises landlords on connectivity and technology matters, which affect their estates, ensuring that these activities are conducted in a safe and compliant manner.
Planning: CTG reviews broadband providers' installation plans or designs the plan itself on behalf of both the fibre provider and the landlord to the highest fire safety and compliance standards.
Audit: CTG audits the quality of an installation, recommending its sign-off to the landlord only when it fully complies with best practice.
Compliance: CTG creates a comprehensive Cloud-based digital asset record, which will be available for the future, to provide ongoing confidence and assurance by testifying to full regulatory and fire safety compliance.
www.completetechnologygroup.com
About InfraRed Capital Partners
InfraRed Capital Partners is an international infrastructure investment manager, investing in real assets which contribute positively to society and support the transition to a net zero future. It operates worldwide from offices in London, New York, Sydney, and Seoul. With around 165 professionals, it manages US$10bn+ of equity capital in multiple private and listed funds, primarily for institutional investors across the globe.
At InfraRed, a long-term, sustainability-led mindset is essential to delivering lasting success, and this mindset directs its assessment and management of the Environmental, Social and Governance ("ESG") aspects of its business. InfraRed has been a signatory of the Principles of Responsible Investment since 2011 and has been awarded triple A+ score in the 2020 review (relating to the 2019 assessment period). It is also a member of the Net Zero Asset Manager's Initiative, a certified CarbonNeutral® company1 and is a TCFD supporter.
InfraRed is a part of SLC Management, the institutional alternatives and traditional asset management business of Sun Life. Over the past 30 years, InfraRed has established itself as a highly successful developer and custodian of core infrastructure, renewable energy and real estate assets that play a vital role in supporting sustainable communities.
In accordance with The Carbon Neutral Protocol. Further information is available at https://carbonneutral.com/the-carbon neutral-protocol
For more information, please visit www.ircp.com
Recent posts
Complete Technology Group (CTG) is the first telecoms specialist to be awarded the Certificate of Commitment and Progress for [...]

VIVID, a leading provider of affordable homes and support services in the south of England, has selected Complete Technology [...]