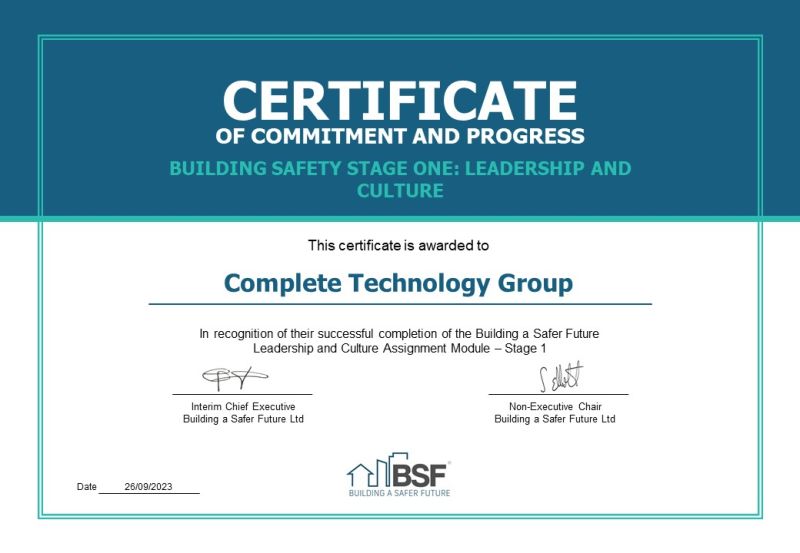 Complete Technology Group becomes first telecoms specialist to complete Stage 1 for Building A Safer Future
Complete Technology Group (CTG) is the first telecoms specialist to be awarded the Certificate of Commitment and Progress for Stage 1 of the Building a Safer Future Champion Assessment.
Full BSF Champion status is only awarded to an organisation that can successfully demonstrate its leadership and culture are embedding building safety throughout its values, beliefs and processes. Being awarded the Stage 1 certificate highlights CTG's commitment to putting residents and building users first, and it becomes the first company in the telecoms sector to gain the accolade.
Chris McLain, CEO, Complete Technology Group said: "There are over 5,000 companies in the telecoms space in the UK1. We're thrilled to be the first to become a signatory to the Building a Safer Future Charter and go on to successfully complete Stage 1 of the Champion Assessment process.
"With over 100 operators building fibre networks2 to support the 150 plus broadband providers3 in the UK, keeping residents, landlords and buildings safe is paramount – and that's why CTG exists."
Founded in 2020 to raise standards in the safety and quality of digital infrastructure, CTG acts as a bridge for landlords and telecommunications providers, facilitating for both parties so residents living in blocks of flats (also known as Multi Dwelling Units) gain safe access to reliable, ultra-fast connectivity.
McLain continued: "We're confident CTG, along with our sister company, Complete Fibre, consistently exceeds current industry standards not least auditing 100% of installations, implementing an MDU Fire Safety Strategy and adhering to Golden Thread Principles. However, we wanted to get independent third-party oversight on this and give our landlords the assurance of holding BSF Champion status – and that's a first for this sector."
Gary Townsend-Vila, Interim Chief Executive of Building a Safer Future, added: "Our process is rigorous, and we're pleased to see CTG achieve the Building Safety Stage One: Leadership and Culture certificate in such a timely and organised way.
"Given the volume of building works in the telecoms sector right now, we're encouraged by their progress through the Champion assessment – and we wish CTG well on their ongoing journey to Stage 2."
CTG has already started the second stage of the Champion assessment, providing evidence for the BSF Champions Corroborating Elements Framework.
Recent posts
Complete Technology Group (CTG) is the first telecoms specialist to be awarded the Certificate of Commitment and Progress for [...]

VIVID, a leading provider of affordable homes and support services in the south of England, has selected Complete Technology [...]