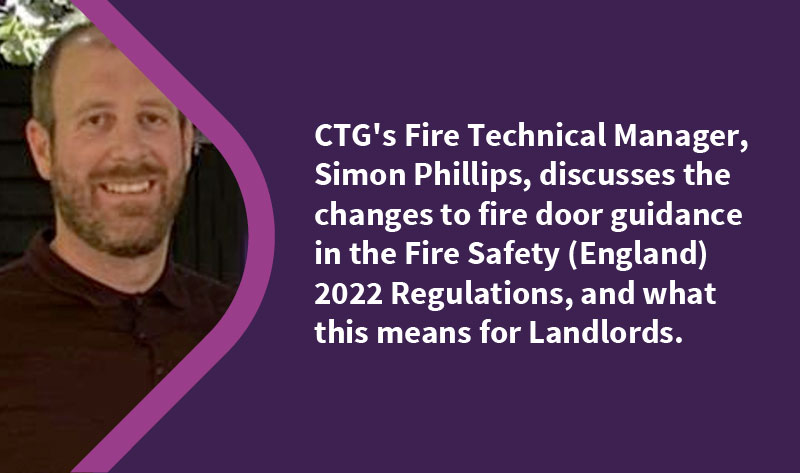 Changes to fire door guidance in the Fire Safety (England) 2022 Regulations
A fire door has a specific purpose- to withstand the spread of fire in a building for a period of time. Since a breakout of fire can be volatile, the fire door will act to protect lives and offer protection to the remainder of the building. This is especially critical in high buildings, where the spread of fire can be unpredictable. It is essential the fire door serves its purpose at all times.
The recent changes to regulations pay specific attention to the maintenance and servicing of fire doors, and Regulation 10 of the Fire Safety (England) Regulations focuses on Fire Doors in multi-dwelling units. As of 23rd January 2023, it is now a legal requirement for Landlords of multi-occupied residential buildings in England over 11 metres in height to:
Undertake quarterly checks of all fire doors (including self-closing devices) in the common parts
Undertake annual checks of all flat entrance doors (including self-closing devices) that lead onto a building's common parts.
The new regulations also require Landlords to provide residents information on the importance of fire doors to a building's fire safety. Gov UK have published a fact sheet here which provides further details what they're going to do, why they're doing it and the current situation.
CTG have a Fire Safety team with expertise in multi-dwelling units and legislation, who can offer pro-bono support and guidance to help Landlords manage their portfolios. Get in touch with us today to talk to us in more detail and learn more about how we can help.
Recent posts
Safety is paramount. It's a phrase used frequently in business, but without meaningful processes, structures, standards and, most importantly, [...]

Complete Technology Group (CTG), the digital infrastructure specialists, has been selected by Curo, one of the largest housing associations [...]