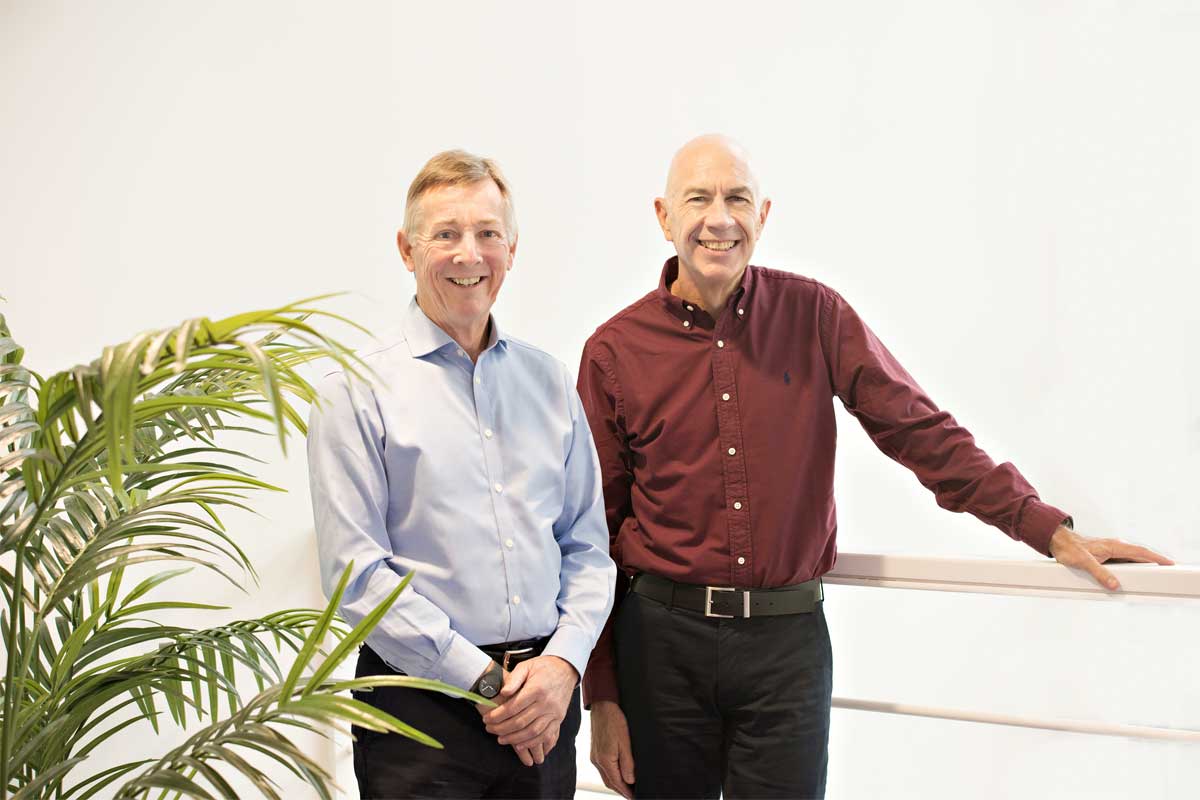 Appointment of two Non-Executive directors bring construction and housing experience to CTG
David Done OBE, a long-serving, award winning CEO in social housing, and Michael Woodhead, a construction and asset management expert, have joined the senior team at CTG. They bring extensive c-suite expertise to help the organisation deliver high quality fibre optic infrastructure for thousands of multi-occupancy homes across the UK by 2025, whilst improving digital inclusion and maintaining building safety in the housing sector.
David has worked at the heart of social housing for more than 35 years in a variety of roles, starting out in the voluntary sector and moving to local authority. Most recently he founded the award-winning, not-for-profit RHP housing association in 2000, which now manages around 10,000 homes across West London.
Michael, meanwhile, has specialist knowledge in start-up businesses and growth, leadership, and governance. He brings a wealth of experience in sustainable and renewable energy alongside asset management, having previously formed and led a number of global businesses.
Eddie Minshull, Chief Executive Officer of CTG, said the complementary skills of David and Michael are already helping to steer the business.
"We're delighted that David and Michael have joined us. They bring a depth of experience which is already adding insight and practical know-how," said Eddie.
"This enables CTG to be part of the solution for landlords, tackle digital inclusion, improve building safety and facilitate telecommunications companies rollout.
"Improving the digital infrastructure of fibre optic digital connectivity in 750,000 homes in the next few years is a huge task but we're committed to driving up standards. Along with our people, our values and the significant financial and sustainability expertise from our investors, InfraRed Capital Partners, we're confident CTG will reach its potential."
CTG was established in 2020 during the pandemic with the aim of improving fibre optic connectivity for landlords of multi-occupancy, social and less well-served communities, to enable residents to access gigabit broadband services. It provides an independent audit, and fibre optic design and installation service for landlords, helping to ensure residents can access ultrafast broadband, whilst also improving the safety of their buildings.
During its first year of operation, CTG secured £125m of investment for its Complete Fibre business and in just eight months has grown from 8 to 80 experienced staff from across housing, technology, service, and construction sectors.
David, from Grayshott, Hampshire, a keen windsurfer and mountain climber, said he believed the potential for CTG was huge, with the safety of social housing and access to digital connectivity now a major Government focus.
"I have experience in the housing sector of trying to improve internet connectivity for residents and it's not always easy – sometimes social housing is not seen as important by internet providers," said David.
"I can see where CTG can really make a difference. The organisation is focused on people and adding social value, along with keeping buildings safe and reducing environmental impact, values that are very aligned to my own, so I'm really excited to bring what I have learnt to CTG."
Michael, a keen cyclist and rugby union fan from St Albans in Hertfordshire, who is also a magistrate, believes his background in business start-up, sustainable energy and asset management could help CTG to realise its ambitious targets.
Michael said: "When conversations with CTG first started, I knew very little about fibre but I was immediately interested in the founders' focus and what they wanted to achieve; they are exceptionally passionate, knowledgeable, and experienced across a range of sectors.
"Of course, there are challenges in every business, especially start-ups, and I've been impressed by how quickly and robustly they are dealt with. The high calibre of people CTG has recruited in a short time is impressive."
For more information about this press release, contact: [email protected]
David Done OBE has worked in housing for more than 35 years, enjoying a varied career that initially took him from the voluntary sector working with the homeless, on to local authorities, and then to setting up RHP housing association in 2000.
David strives to provide excellent accommodation for residents, regardless of their circumstances, and ensures that people remain the focus of the organisation.
His belief that people should be provided with the highest living standards and first-class customer service have led RHP to be recognised as one of the most successful social enterprises in the UK.
It was during David's time at the London Borough of Richmond that he delivered a programme of major change, which involved the acquisition of all the Council's housing by RHP, a new independent entity, which required over £100m of private finance being raised to purchase the 9,000 homes and fund a major programme of repairs and improvements.
Through the creation of RHP, David has taken social housing stock in West London from bottom to one of the best performing housing associations in the UK.
"Some 22 years ago, when we launched RHP, we decided that we wanted to be brilliant at providing social housing for people to live in – not run of the mill – and we set out to deliver amazing customer service, which was an alien concept," said David.
"I'm really looking forward to bringing what I have learned to CTG."
You can view David's full biography here.
Michael Woodhead started his career as a quantity surveyor with John Laing Construction, where he held a variety of roles that lay the foundations to his successful, illustrious career, which now also spans business start-ups, renewable energy, investment, and asset management.
After five years at John Laing, Michael and his wife took the opportunity to move to Hong Kong, where he continued his career in construction.
However, it was his return to the UK and John Laing Construction, which would prove a pivotal point in his career.
John Laing was involved in a joint venture with Degremont, and Michael was asked to head up a new company for Degremont UK, designing and constructing new water treatment works. After overseeing the success of this new business, Michael was then asked to set up a new finance company for Degremont in Paris, where he oversaw major PFI agreements, both in the UK and internationally. After three years in Paris, Michael returned to the UK as Managing Director of Degremont, where he held a further 12-year tenure.
"I have worked in lots of different businesses and latterly been involved in running companies and have got closer to investors, so I can bring to CTG my knowledge of both starting and developing businesses, and understanding what investors, like InfraRed Capital, are looking for," said Michael.
"Over the years, I have learned that simplicity in business is important. There are many fundamentals, like setting objectives and targets, setting a direction and then being prepared to be blown off course, and around providing guidelines for people to work to.
"However, common sense and values are the key elements. At CTG, our values will prove key, such as never compromising on safety. By keeping it simple and staying focused on its objectives, I have no doubt that CTG will have great success."
You can view Michael's full biography here.
Complete Technology Group
Complete Technology Group (CTG) are specialists in digital infrastructure. We exist to accelerate access, raise standards and improve safety in the installation of ultra-fast digital connectivity – and help to create a world where everybody can enjoy safe, high-quality, ultra-fast digital connectivity in their homes.
Working alongside telecommunications companies, we manage the programme on behalf of the landlord. We provide audit, route design and end-to-end implementation, whilst ensuring safety and quality is at the forefront of all we do.
We are a commercial company committed to driving social value. With just one installation, we reduce the need for multiple fibre optic installations (by multiple companies) and minimise building safety risks and disruption for residents. Our services also contribute to reducing the landlord's carbon footprint.
By accelerating access and raising standards, we facilitate greater digital inclusion for more people. Our services deliver secure, future-proofed infrastructure to enable the provision of ultra-fast giga-bit broadband for education, work, healthcare and community services.
For more information, please visit www.completetechnologygroup.com
InfraRed Capital Partners  
InfraRed Capital Partners is an international infrastructure investment manager, investing in real assets which contribute positively to society and support the transition to a net zero future. It operates worldwide from offices in London, New York, Sydney and Seoul. With around 170 professionals, it manages US$14bn+ of equity capital in multiple private and listed funds, primarily for institutional investors across the globe.
At InfraRed, a long-term, sustainability-led mindset is essential to delivering lasting success, and this mindset directs its assessment and management of the Environmental, Social and Governance ("ESG") aspects of its business. InfraRed has been a signatory of the Principles of Responsible Investment since 2011 and has been awarded triple A+ score in the 2020 review (relating to the 2019 assessment period). It is also a member of the Net Zero Asset Manager's Initiative, a certified CarbonNeutral® company1 and is a TCFD supporter.
InfraRed is a part of SLC Management, the institutional alternatives and traditional asset management business of Sun Life. Over the past 30 years, InfraRed has established itself as a highly successful developer and custodian of core infrastructure, renewable energy and real estate assets that play a vital role in supporting sustainable communities.
1 In accordance with The CarbonNeutral Protocol. Further information is available at
For more information, please visit www.ircp.com
Recent posts
Safety is paramount. It's a phrase used frequently in business, but without meaningful processes, structures, standards and, most importantly, [...]

Complete Technology Group (CTG), the digital infrastructure specialists, has been selected by Curo, one of the largest housing associations [...]